Matching & realization
Compare the best deals for your solar project
Choice of screened providers
Attractive terms through competition
Shorter lead times - get to work fast!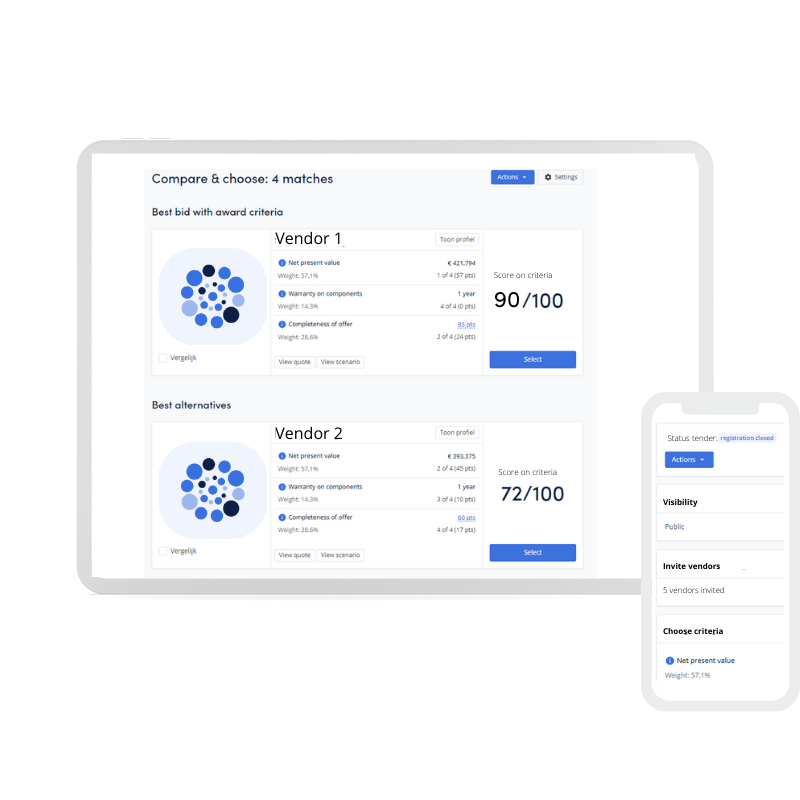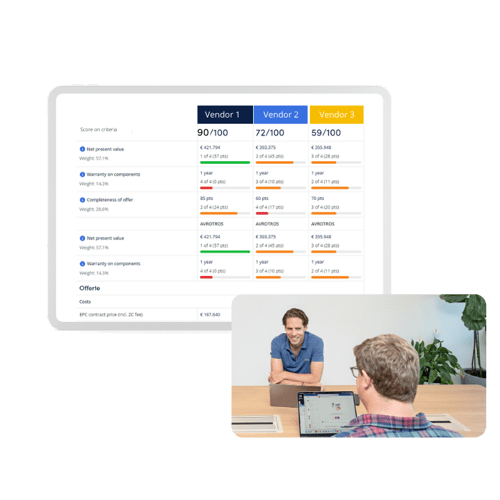 Tender model
Always the right fit
By requesting projects with clear conditions, you will receive competitive quotes in our portal. We score the providers on all the criteria you find important for your solar project. Which one is most suitable, who has the best conditions? This way you can compare apples with apples and substantiate your choice with a transparent overview. Adding a provider who is not yet affiliated with Zoncoalitie is of course no problem.
Screened providers
Choose from top suppliers
All the providers you ask for a quote through the portal have been screened by us. They are parties that our customers have had good experiences with and that meet various quality marks. Among other things, we check for certifications, size of the organization and safety measures. So you don't run the risk of going with the wrong installer.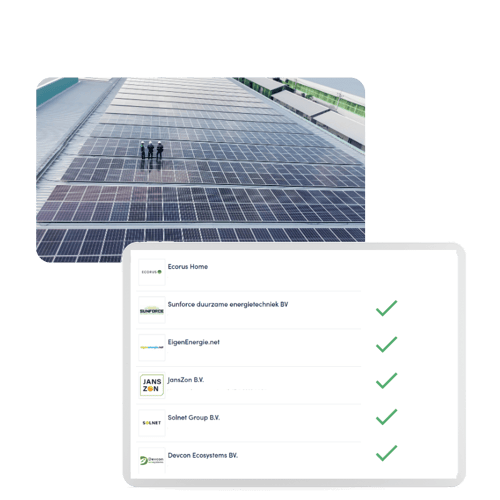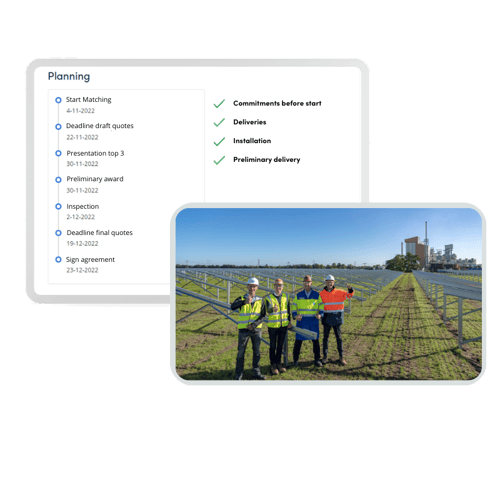 Grip on planning, budget and quality
A deal is a deal
Once you have chosen the most suitable provider for your solar power project, you will go through all the phases of realization together with that provider and us. Zoncoalitie is the independent party that ensures that the agreements in your contract are met. Together we monitor the progress so that the implementation runs smoothly.
Know exactly what the sun can do for you?
Do you have a roof over 200 m2? A large parking deck? Need charging poles or a battery?

We are happy to explore the possibilities for you.
Features
'Through the guidance of Zoncoalitie everything is
arranged from A to Z' - Ruud Kortink (Union CS)
These components are addressed during matching & realization:
Clear terms and conditions
Planning
Capex & Opex by provider
Comparison on all criteria
Meeting all obligations
Predictable contract negotiation
Help from
grant

to

realization
Zoncoalitie has realized more than 110MW by making large commercial rooftops more sustainable throughout the Netherlands.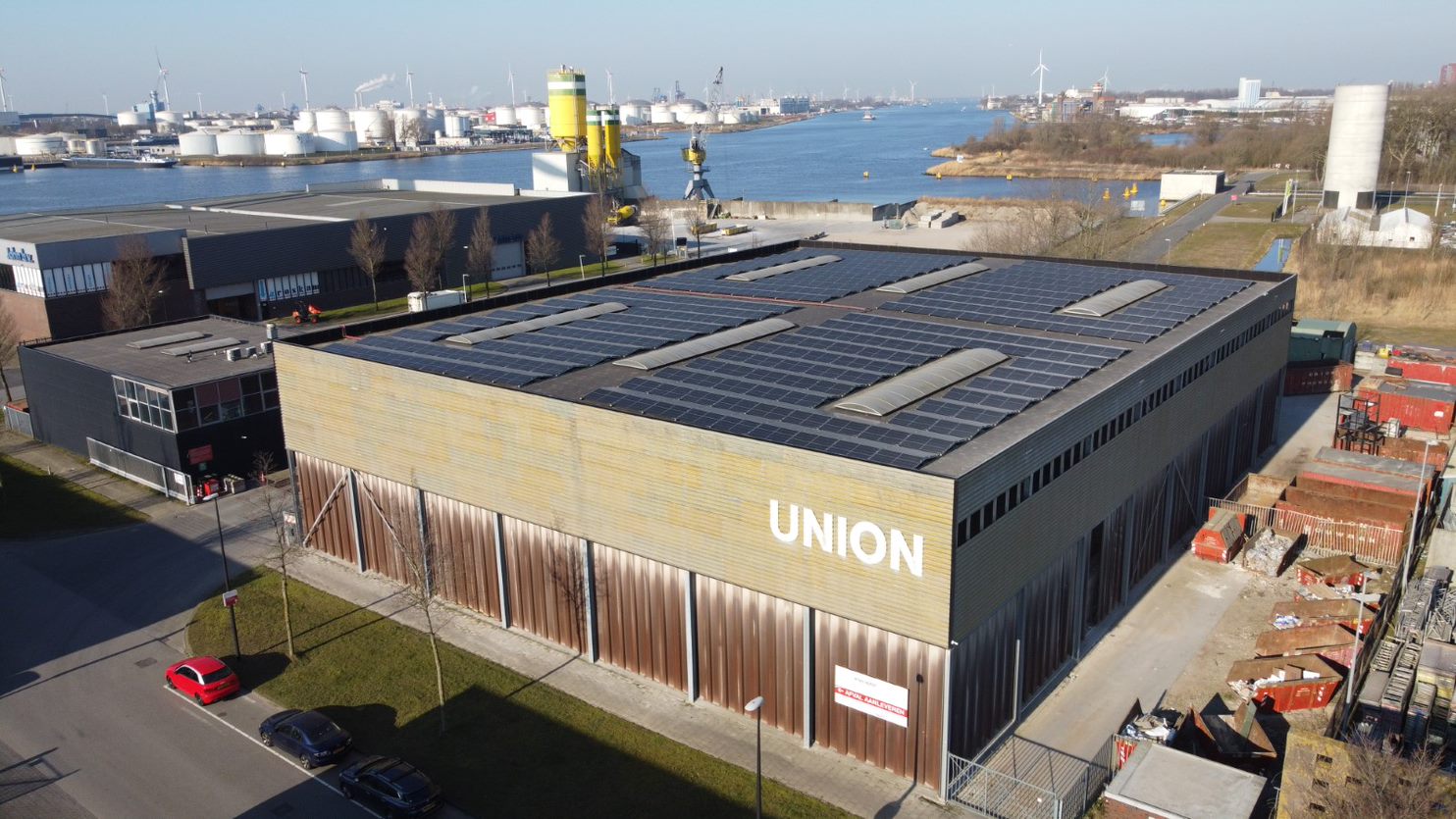 Reason
Union Container Services is located on the CoDo site in Amsterdam North. Together with the municipality of Amsterdam, Zoncoalitie has rolled out an area-based approach. This means that entrepreneurs can have the project reporting done by Zoncoalitie at the municipality's expense. Union Container Services grabbed this offer with both hands.
Our support and solution
From SDE application to realization, Zoncoalitie was involved in the project from start to finish. In addition to the SDE subsidy, an appeal was made to the Sustainability Fund. In this process, Zoncoalitie also supported in strengthening the roof. In this way, a high-quality system was easily realized. The knowledge and experience of Zoncoalitie guarantees this.
Result
624 solar panels
250 kWp of power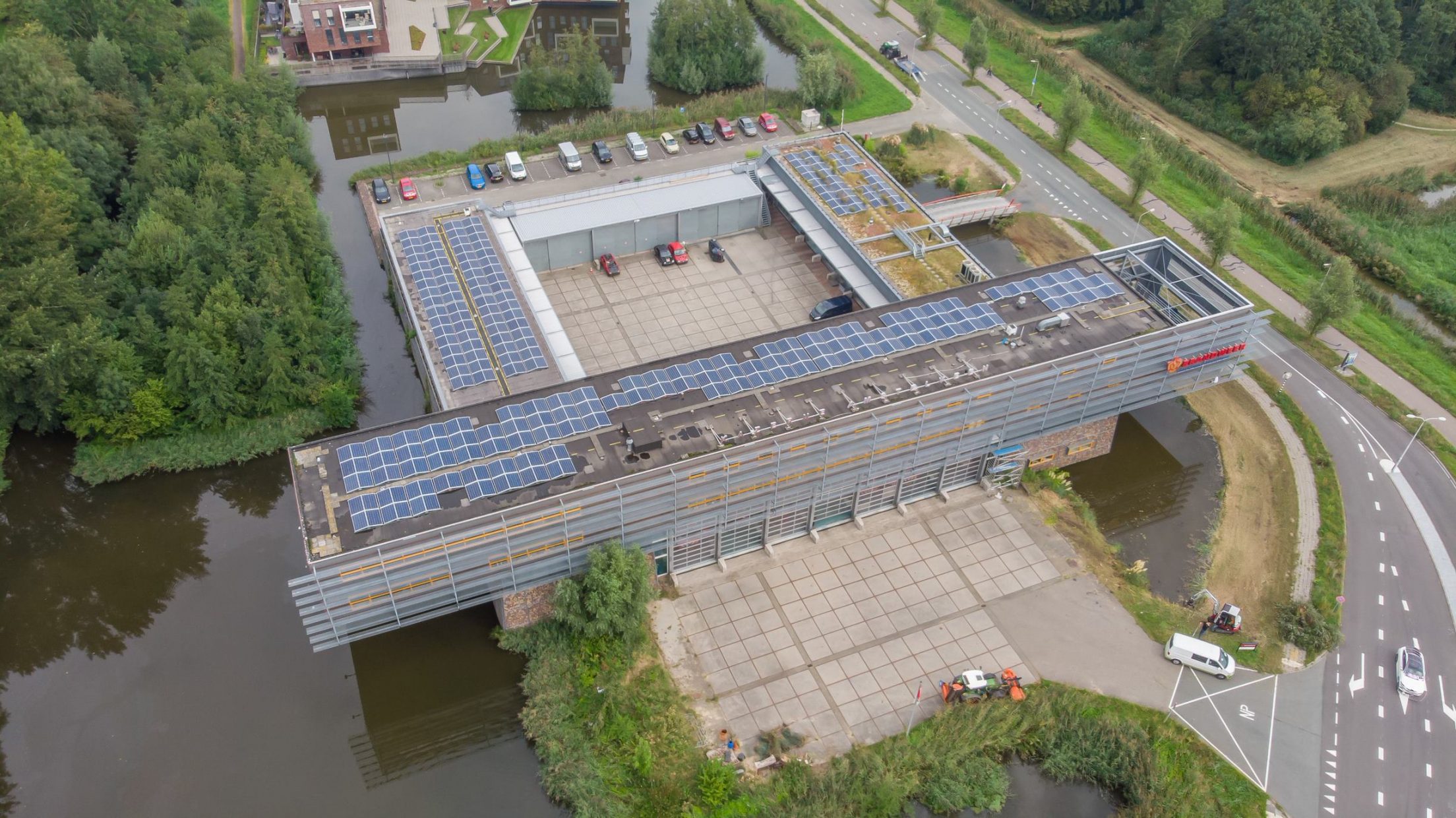 Reason and need
Fire Station Amstelveen was one of seven properties where Zoncoalitie supported the Amsterdam-Amstelland Fire Department in becoming more sustainable. Each station was equipped with an appropriate PV system.
Our support and solution
Zoncoalitie provided the grant application and technical feasibility studies for the various fire stations. We also advised Fire Department Amsterdam-Amstelland on the possible financial constructions of producing solar energy. Then we went together to look at the requirements for the various PV installations and based on that we were able to make a targeted request to our members (solar energy providers). Eventually we were able to successfully link Janszon to the Amsterdam-Amstelland Fire Department to realize the solar power project.
Result
289 solar panels
116 kWp of power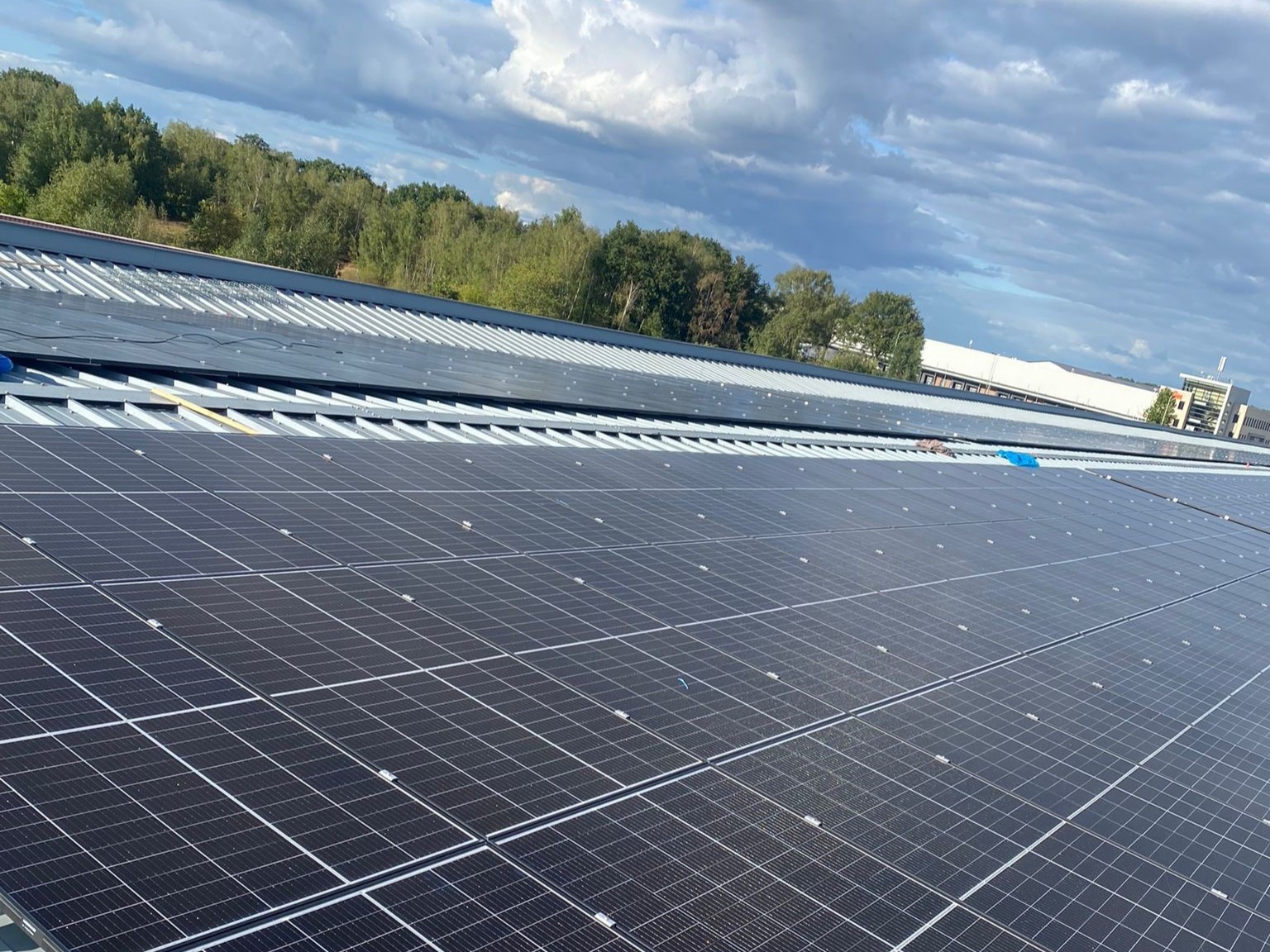 Reason and need
TICA Venlo is a lifestyle wholesaler in northern Limburg, on the edge of the German border. This 20,000 m² cash-and-carry is located on the Flora Trade Parc. The assortment is tailored to interior design professionals and retailers in the home, gift, garden, fashion and lifestyle sectors. As tenant of this property, TICA has chosen to invest in solar panels itself.


Our support and solution
Zoncoalitie conducted a feasibility study on behalf of TICA Venlo, on the basis of which a targeted search for a suitable implementer of this project could be conducted. The matching process took place on our platform of 25+ solar providers. TICA was quickly linked to Lens, after which the solar installation was successfully realized.
Result
956 solar panels
382 kWp of power
How much € does the roof of your commercial building generate?

Transform the roof into a solar roof

We take care of it from grant to management

Rely on our expertise - over 110MWp already generated

Overview throughout the process with the Zoncoalitie portal

I am happy to help you! - Alex Muhring